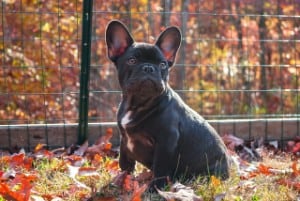 Amongst the hundreds of different dog breeds that there are, there are only ten different styles of ear which have been identified. 
And today I want to focus on one specific type- round ears, bat ears or blunt ears. 
It is thought that the name comes from the fact that bats have ears which look way too big for their heads.
And it is the same for the four breeds of dogs which I want to talk about today.
Trying to find breeds of dogs which truly have round ears has been a struggle- they seem to be few and far between.
But each of the breeds on my list has a set of ears which would seem to be better suited on a dog breed with a bigger head…
And although they do look a little odd, in reality they aren't that much different to the upright ears of the wolf.
The animal from which all domesticated dogs "comes" from.  
[1] French Bulldog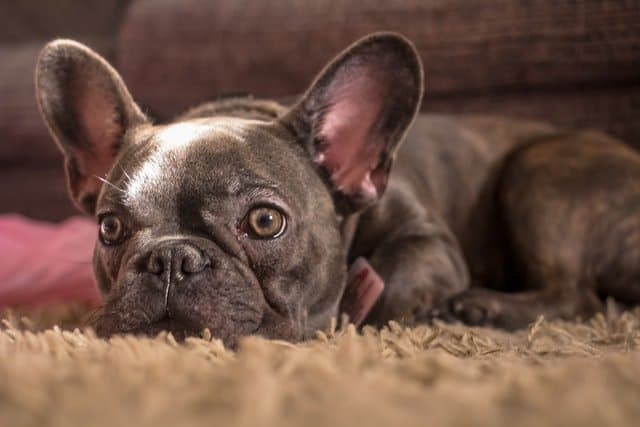 Round ears are the only types of ears that Frenchies should have according to the AKC breed standard. 
But interestingly, when French Bulldogs were first being shown, the preferred style of ear was rose shaped. 
And their oversized ears add to the comic and very cute look that these dogs have. 
To go with this great look, these dogs are tremendous characters. 
They are eager to please and just want to be at the centre of everything. 
They are great with children and don't need much exercise
An adult male will be anything up to 33 cm or 13 inches tall and weigh around 28 lbs or nearly 13 kgs.
As a result, these dogs are massively popular.
Between 2013 and 2017, they rose from being the 11th most popular breed to the 4th most popular in the U.S.
In the U.K. in 2018 it became the most popular breed. 
But the breed does have quite severe health concerns. 
French Bulldogs have very short noses which makes breathing very difficult for them 
[2] Cardigan Welsh Corgi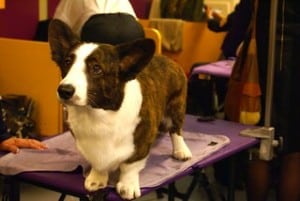 Next, I have the first of two Welsh Corgis.
The Cardigan Corgi is the oldest breed of the two by perhaps over two thousand years. 
And the Cardigan wins "top trumps" as far as ears are concerned.
Because although both breeds have round ears, the Cardigan's are larger and more rounded!
Also the Cardigan Welsh is a heavier dog, with a male weighing up to 34 lbs- 8 lbs heavier than a male Pembroke. 
Two more differences to draw your attention to. 
Firstly Cardigan's have tails whereas Pembrokes have their tails docked.
And lastly, Cardigans come in a greater range of colours- brindle, red and sable and blue merle. 
Whereas a Pembroke comes in red, sable and tricolour.
Let me now move on and talk about the Pembrokeshire Welsh Corgi
[3] Pembrokeshire Welsh Corgi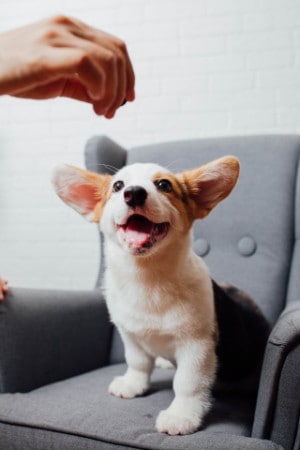 What this specific breed has got going for it is that it is one of Queen Elizabeth's II favourite breeds. 
In terms of ears, both Corgi breeds have ears that are placed more on the side of their head than the top of the head, which is the case for French Bulldogs.
Like it's Cardigan cousin, this breed was bred to help herd cattle.
And here's the stroke of genius.
Because Corgis are so short, standing around 12 inches high, they are low enough to the ground to avoid being accidentally kicked by the cattle that they are herding!
In terms of personality, Corgis want to be where the action is. 
They are used to trying to control much larger animals (cows) than themselves and so they have bucket loads of determination to try and force their will on anyone who isn't strict enough with them or consistent enough with their training!
They want to be working or exercising and an under exercised and under stimulated Corgi can bark quite a lot and chew things up around the house.
And now we move from a small superhero of sorts, to Mickey Mouse.
[4] Maltese Papillon mix
If you want perfectly round ears then there really is only one choice.
Two years ago, Maltese Papillon mix called Goma became an Internet sensation because of her perfectly round ears.
And not only are the ears perfectly round but they are a different colour to the rest of the body. 
It looks as if Goma is wearing a pair of novelty ears bought from a fancy dress shop. 
Nicknamed Mickey Mouse because her ears are as round as Mickey's, this dog seems to be a bit of a one off.  
Photo Credits
¹ Photo by Aaron Bookout on Unsplash
² Photo by Tinuke Bernard on Unsplash