All of us know at least one big, black, brown or white dog. 
If you've ever met one, how can you forget them? 
They require mountains of dog food every week and climb up to head height to give massive, furry cuddles.
Whilst big dogs are endlessly loveable, they do come with increased health hazards. They pose a higher risk for hip dysplasia and arthritis. Their diets also have to be managed very carefully to ensure they have the right balance of protein and fat.
All dogs derive their colour from their gene pool. Genes have a direct influence on both the pigments produced and their placing on the coat.
All of the dogs listed here have their own special characteristics, but it's hard to look past the uniqueness of the Leonberger and the Moscow Watchdog.
Both have eccentric reasons for their breeding which add to the mythology of both dogs. 
Also, Leonbergers make excellent companions for those struggling with their mental health.
7 big, black, brown and white dogs
St. Bernard
Everybody knows a St. Bernard dog!
This gentle giant is the ultimate family pet. They're both short and long-haired and you'll see them in any shade of orange, mahogany, brindle or red. 
Their coat can be either smooth or rough.
The smooth coat is generally close and flat, with the rough coat dense and more abundant around their head and legs.
Black patches are also common around the jowls and ears. 
They typically have a long-hanging and thick, white-tipped tail. 
In the early 18th century, the calm and patient dogs were used by monks on rescue missions in the dangerous St. Bernard Pass in the snowy Alps.
Their incredible sense of direction and resistance to freezing temperatures were crucial in helping to save over 2,000 people.
Nowadays, they are lovingly known for drooling and shedding all over the house! They are highly intelligent creatures who love to socialise. 
They have one of the lowest IQs of all dog breeds when it comes to obedience and work intelligence.
Although, they do skilfully perceive human emotions. 
Did you know? The canine star of family classic Beethoven (1992) was a white St. Bernard with brown patches.
His name was Chris and he lived until 12 years old; an impressive age for a St. Bernard! 
Bernese Mountain Dog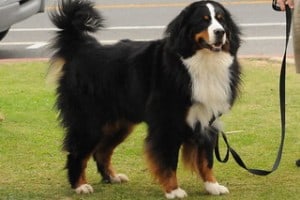 Have you ever heard of the Bernese mountain dog?
This dog is a large, versatile working dog breed hailing from the Swiss Alps.
They have a distinctive tricolour, medium-length silky coat, which can be straight or wavy.
Their coats are a varied mix of white, a rust or dark chocolate brown, with black patches.
These intelligent dogs are loyal, have a calm nature most of the time and are easy to train. Usefully, 'Berners' make for great watchdogs.
However, do cover your ears; they have a deafening bark! 
They're also sturdy dogs, capable of herding cattle and pulling heavy carts.
As they can be full of energy and get restless easily, they're better suited to more experienced owners. 
Bernese mountain dog pups look like adorable little teddy bears.
Their irresistible puppy-dog eyes, floppy ears and small pink tongues make them impossible to resist. 
Did you know? They are incredibly strong dogs and can pull up to ten times their own weight, or nearly 1,000 pounds!
Moscow Watchdog
When you think of big dogs, Moscow watchdogs are one of the biggest of them all! 
The Moscow watchdogs are very imposing dogs bred in the 1980s in the former Soviet Union.
Recognised for their red and white coat, which is thick with a moderate length, their bulky head and stout legs make them easy to spot.
So too does their gait; they are tall and walk with their chest arched out. 
Most overwhelming about these huge dogs is their size.
They are two-thirds of a metre tall and can weigh the same as a young woman.
Despite their physical appearance, they can be obliging dogs with the right owner. As they've been bred to protect and guard, they're very protective of their family.
Firm leadership is essential in their upbringing, though.  
Whilst they don't require all-day exercise, it's essential you find the right amount of exercise for your Moscow Watchdog.
Despite their similar appearance to St. Bernard's, they require far more exercise.
Failure to do so may see an upturn in bad behaviour or wrecking the house out of boredom!
Did you know? The Moscow Watchdog came to be when rising crime rates in Russia saw the need for watchdogs.
To find the perfect blend of traits, St. Bernards (strong and gentle) were bred with Caucasian Ovcharkas or Shepherd dogs (very assertive and great observation skills)
Basset Hound
Let's talk about the Bassett Hound. Yes, they are large dogs too! 
Despite only being up to 15 inches tall, the scent hound with the long jowls and floppy ears is actually huge by weight.
These lazy dogs with very little exercise needs can weigh up to a huge 65 pounds.
Unlike other hunting dogs, Basset Hounds actually come in many different colours, including lemon and white, white and tan, red and white, tricoloured, and white and black with black ticking. 
Famously, they have an excess of skin which causes folds.
The skin folds can cause bacteria and yeast infections, especially if not regularly cleaned. Their profuse skin and ear leather are said to help them retain the smell of other dogs when hunting. 
Their unique set of physical characteristics makes this a very distinctive dog. They're big-boned and have very small legs, but large paws.
Their face is stuck in a sad, droopy expression and their ears are long and floppy like a rabbit's. 
Their short appearance stems from a genetic condition called achondroplasia, the primary feature of which is dwarfism.
However, they are very playful and tolerant. They're very vocal and famously incredibly stubborn. 
Did you know? The Basset Hound is immortalised in the MGM and Cartoon Network star comedy show Droopy, created in 1943. 
Greater Swiss Mountain Dogs
There is another large working dog originating from the Swiss Alps! 
The Greater Swiss mountain dog, or 'Swissy', is a dog to turn heads, having a loud bark and weighing well over 100 pounds.
They have a very dense coat with a thick undercoat.
They don't shed much, although the undercoat makes an appearance twice a year. Most 'Swissy' have a black coat with a thick white strip under their neck.
They will almost always have rust patches around their face and legs. 
They're hard to handle, so generally not suitable for a novice dog handler.
They also need lots of space, so a large home with a garden is a must.
They need a special diet designed to help with slow and sustained growth, in order to prevent hip dysplasia when they age.
They are also prone to piling on the pounds. It's best to have a diet with moderate amounts of protein and fat.
Did you know? Among the four Swiss mountain dogs or Sennenhunde, this breed is thought to be the oldest and largest.
Estrela Mountain Dogs
Once you've seen an Estrela mountain dog, you'll never forget them.
Most of their coats are brown with a black face.
You need to look harder to find the white which is on their chest and stomach.
These athletic, mastiff-like dogs have two coat types, both resembling the texture of goat hair.
The long-coated dogs have a thick and slightly coarse coat of flat or slightly-waved outer hairs, with a dense lighter coloured undercoat. Hair on the ears diminishes in length and males are said to have a 'lion's mane'.
The short-coated variety has a thick and slightly coarse coat that's not too harsh. Under this, they still have a dense undercoat.
They have a long history of acting as great watchdogs or guard dogs. They are bulky and athletic, calm but fearless. It will provide endless affection to loved ones but remain very suspicious of new faces.
The mountain dogs are strong-minded and independent. They require intensive training in order to develop social and leadership skills. Therefore, an experienced handler is crucial. 
Did you know? The breed originate from the Estrela Mountains in Portugal, where they were bred as herding dogs. 
Leonberger
Have you ever seen a dog that looks like a lion?
The Leonberger, multi-purpose working dogs who resemble lions, have a beautiful long, water-resistant double coat. You may see them with lion-yellow or sandy coat, or gold with a reddish-brown, but always with a black mask around their face. They shed moderately but fully shed twice a year. 
Leonbergers have high energy levels, although they are very sensitive dogs. They will get upset if they see family members arguing and may try to get involved. 
Despite the fact they can weigh up to 170 pounds, Leonbergers are very nimble on their feet. 
Their sensitive, compassionate and loving nature also makes them an official Psychiatric Service Dog (PSD) or a 'therapy dog'. They are provided as excellent companions for people diagnosed with mental health conditions. 
Did you know? Leonbergers came into existence when the Mayor of Leonberg, Germany wanted to create a dog resembling a lion for a rebranding of the town's coat of arms. 
Photo credits
¹ Photo by Gian Paul Guinto on Unsplash
² Photo by Andy Blackledge on Flickr
³ Photo by Jakub Szestowicki on Flickr
⁴ Photo by Patchattack on Flickr
⁵ Photo by Llima Orosa on Flickr
⁶ Photo by gailhampshire on Flickr