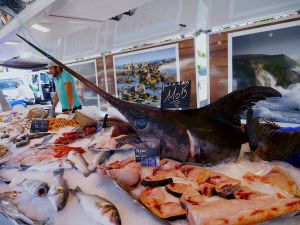 Dogs love eating fish, and it is no surprise that one of the most common types of treats for a dog is dried fish.
Not all fish are safe for dogs to eat, and swordfish is one of those. 
Now, whether you want to know about swordfish for yourself or you want to know about it so that you can advise your friend with a pet dog, we'll be happy to help you!
If you love your dog and care about what you feed it, then make sure you don't serve swordfish or its relatives.
As much as swordfish are not suitable for your dog, it also has a few benefits, as discussed below.
Here is what you will learn from reading this article:
Three benefits for dogs of eating swordfish…
Here are the three main benefits of swordfish to your dog's health:
Swordfish is rich in protein
Swordfish is an good source of protein and contains all of the essential amino acids needed by dogs, and this makes swordfish an excellent choice for pups that require a high-protein diet.
High in vitamin D
Swordfish are rich in vitamin D, which helps with strong bones and teeth. Swordfish has more than double the recommended daily value (RDA) of vitamin D per 100 grams, and this nutrient helps maintain strong bones, muscles, teeth, and even immune function.
It contains omega-3 fatty acids
The omega-3 fatty acids in swordfish benefit the heart, skin, coat, and joints:
Skin and Coat Health: Omega 3 fatty acids help keep your dog's coat shiny and healthy by preventing dry skin and flaking due to dandruff or other skin conditions like eczema or seborrhea (a buildup of dead cells on the skin). These healthy fats also help fight against excess shedding by promoting healthy hair growth.
Joint Health: Omega 3 fatty acids have been shown to help reduce inflammation in joints. This helps relieve pain and swelling caused by arthritis or other joint problems such as hip dysplasia or chronic osteoarthritis.
Heart diseases: Swordfish is rich in omega-3 fatty acids, which help lower the risk of heart disease. Dogs who eat swordfish may be less likely to develop heart disease or have a stroke. Omega-3 fatty acids also help improve joint health and boost brain function.
Four risks to dogs of eating swordfish
Swordfish is a popular food but can also be poisonous to dogs. The risks of eating swordfish include:
High in mercury
Swordfish have high levels of mercury, which can cause neurological damage in dogs if exposed to too much of it.
Mercury poisoning causes symptoms such as vomiting and diarrhea, tremors and seizures, dilated pupils, and loss of vision.
High in cholesterol
Swordfish contains high levels of cholesterol, which may increase the risk of heart disease in dogs who consume large amounts regularly.
This is especially true for dogs with heart problems or other medical conditions predisposing them to cardiovascular disease (CVD).
Raw Swordfish Is Dangerous for Dogs
Raw swordfish contain the thiaminase enzyme, which destroys thiamine (vitamin B1).
Thiamine deficiency can cause serious health problems in dogs, including neurological disorders and heart failure.
Thiamine deficiency is rare in dogs who only eat commercial food or a home-cooked diet, but it can happen if they have access to raw fish or raw meat scraps containing thiaminase.
The bones of the swordfish are a choking hazard
If you feed your dog swordfish, make sure that you remove all of the bones before serving them to him.
The bones of the fish are sharp and can be difficult to chew up, which could lead to impaction in your dog's digestive system.
Bones from raw or undercooked fish can cause blockages in your dog's digestive tract, which can be fatal in some cases. 
How nutritious is swordfish, and how might this nutrition benefit a dog?
Swordfish does not have any carbohydrates, so it's not a good choice for dogs who need to lose weight or diabetic dogs.
However, if your dog is in perfect health and needs a protein boost, swordfish is an excellent choice.
Swordfish contains about 20 grams of protein per 3-ounce serving. It also has about 6 grams of fat and zero carbs.
The proteins in swordfish are complete, meaning they contain all the amino acids required by dogs for growth and maintenance. They are also high in arginine and lysine, two amino acids essential for healing and tissue repair within the body. These nutritions can be broken down as follows:
Calories: 146:
Protein: 20 grams:
Fat: 6.7 grams:
Carbs: 0 grams:
Selenium: 106% of the Daily Value (DV)
Vitamin D: 71% of the DV
Potassium: 9% of the DV
Magnesium: 7% of the DV
Can dogs eat raw swordfish?
Raw swordfish is not safe for dogs to eat.
The flesh of this fish contains a toxin called scombroid, similar to histamine, and can cause severe allergic reactions.
Symptoms include itching, hives, swollen face and paws, vomiting, and diarrhea.
If your dog has consumed raw swordfish, take your dog to a veterinary clinic.
Raw swordfish may also contain bacteria that cause severe illness or death in some animals.
Cooking kills these bacteria, so if you choose to feed your dog cooked swordfish (which is safe), ensure it's thoroughly cooked so there are no raw juices remaining on the meat.
What is the best way of cooking swordfish for your dog?
The best way to cook swordfish for your dog is by baking or grilling. Ensure you remove all skin and bones before feeding them to your dog.
If you are going to bake swordfish for your dog, be sure not to use oil or seasonings on it because these will not be good for his digestive system. Be sure to cook the fish thoroughly prior to feeding it to your dog so that there are no raw spots on the meat that might make him sick if he ate them.
Another thing you can do is cut the swordfish into small pieces so that they are easier for your dog to eat. This will help prevent choking if your dog has food allergies, which can happen with any type of food, including fish.
Never cook swordfish in oil, seasonings, or spices, as these can be toxic to dogs.
We don't want you to use oil because it can add unnecessary calories and fat to the meal. The same goes for seasonings and spices; they are not needed!
Is the skin safe for dogs to eat?
Yes! After it is thoroughly cooked, it is safe for dogs to eat swordfish skin. However, you should always confirm with your vet before feeding your dog any new foods or treats.
Swordfish skin contains omega-3 fatty acids, essential for a healthy dog diet. 
How much swordfish should I feed to my dog?
It's advisable to keep in mind that your dog's serving size is based on weight. A small dog weighing less than 10 pounds will need a much smaller serving size than a large dog weighing up to 100 pounds.
The recommended amount of fish for a 10-pound dog is about 10 grams per 450 grams, about two tablespoons of cooked fish, or 1/4 cup of canned salmon.
Salmon is high in protein and omega-3 fatty acids, which are suitable for your dog's health.
How dangerous are the bones in a swordfish for a dog?
Swordfish bones are long and thin, and they can splinter easily. If a dog bites into one of the bones, it could get stuck in the esophagus or throat, which is very dangerous and could cause choking, inflammation, infection, and even death.
As with swordfish, any other bones are choking hazards for dogs. The best way to prevent your dog from eating bones is to avoid giving them to him in the first place. If you give your dog a bone, ensure it's cooked thoroughly so all the marrow has been removed.
Can puppies eat swordfish?
Puppies should not be given swordfish because it may cause them to develop a severe case of pancreatitis. This condition is characterized by inflammation of the pancreas and can lead to death if not treated properly. Puppies should not eat swordfish because they cannot digest the fish well, which can cause them to develop pancreatitis. It only affects puppies because they're more sensitive to toxins, but because they're smaller and the poison will have a greater effect on them than it would on an adult dog.
If you want your puppy to eat swordfish, ensure that you cook it well so that all bacteria are killed off. Also, ensure that you feed your puppy small amounts at first so that their stomachs get used to digesting this type of meat before increasing their serving sizes over time.
How available is swordfish?
Swordfish are a bit harder to find than salmon. But it's not impossible.
If you're shopping in the US, you can buy swordfish at Walmart and Costco websites. These two retailers often have great deals on swordfish, so it's worth checking out if you want to save money on your purchase. If you live in a place where Walmart has a store, it's even better because you don't have to pay shipping costs!
The downside of swordfish is that it's more expensive than salmon. Swordfish costs $3.27 per pound, while Salomon fish costs range from $2.34 to $2.68 per pound.
So if you need something cheap and easy, swordfish isn't your best choice. While this isn't something you'll want to splurge on weekly, occasionally buying swordfish will help boost your budget without breaking your bank account.
Alternatives to swordfish
Some fish are safe for dogs to eat, which is good news for pet owners who want to save money on commercial pet food. There are even some benefits to feeding your dog a homemade diet.
Whitefish like flounder and cod can be an excellent option to give your dog fish. These fish are relatively inexpensive and easy to find, and they also have a mild flavor that can appeal to most dogs.
If you want something a bit flavorful, try salmon or tuna. These fish have oils that make them somewhat oily when eaten raw, so they may not be the perfect choice if your dog has problems with digestion or itchy skin.
Conclusion
Generally, vets do not recommend dogs to eat swordfish, as it contains elements that may be toxic for dogs.
You should talk to your pet doctor before feeding your dog anything uncommon.
Photo credits
¹
Photo by catrina farrell on Unsplash