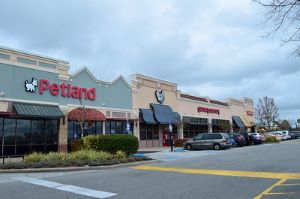 The quintessential canine pet, dogs have become commonplace in families' homes all over the world, and the demand for these furry companions just seems to keep going up and up.
Well, if you're in the same boat and are considering getting your very own puppy, you might be wondering where the best place to get one is. 
You may have heard of the pet store Petland before, but what are their prices like?
How much do they sell puppies for, what breeds do they offer, and where do they get their puppies from?
Read on to hear the answers to each of these questions and more. 
What is Petland?
Founded in 1967, Petland has been in the animal retail business for over 40 years, delivering high quality animals, pet products, and training services to customers throughout the decades.
They also offer in store pet care systems and service programs for the community which attempt to place homeless pets with loving families.
They've also gone to lengths to curb pet overpopulation in the communities in which they operate. 
There are tons of Petland locations all over the US and Canada, and they've got a handy store locator tool on their website for easy access. 
What Sorts of Puppy Breeds Do They Sell at Petland?
Petland offers a wide selection of puppy breeds to choose from, so they've probably got the dog for you.
Their website lists each of the breeds they offer, so it's quick and easy to check which are available and what kind you might want. 
The following breeds are listed to be available at Petland: Akita, Alaskan Klee Kai, Alaskan Malamute, American Bulldog, American Eskimo, Aussiepoo, Aussiedoodle, Aussiemo, Australian Shepherd, Beabull, Beagle, Bernese Mountain Dog, Bichon Frise, Bichon Poo, Boston Terrier, Boxer, Bullmastiff, Cavachon, Cavalier King Charles, Cavapoo, Chihuahua, Cockapoo, Cocker Spaniel, Dachshund, Dalmatian, Doberman, English Bulldog, English mastiff, English Toy Spaniel, French Bulldog, German Shepherd, Golden Retriever, Goldendoodle, Great Dane, Havachon, Havenese, Havapoo, Havashu, Huskimo, Italian greyhound, Jack Russel Terrier, Japanese Chin, Labradoodle, Labrador Retriever, Lhasa Apso, Mal-shi, Maltese, and Maltipoo. 
They offer a few other breeds on top of that exhaustive list, as well as many mini variants of larger breeds.
If you'd like to see the entire list of breeds, check out their website for a full list. 
What is the Price Range of Their Puppies?
Now if you're considering buying a puppy from Petland, you most likely want to know what the price range is.
The prices for different breeds of puppy can vary widely, but you can expect to pay anywhere from $2,500 to $9,000. 
If you're looking for a puppy on the cheaper end of the price range, you may want to go for terrier varieties, beagles, or chihuahuas, which are all typically less pricey breeds.
If you're okay with paying on the high end, take a look at the eskimo or doodle breeds, which are known to run a little higher. 
Do Petland Puppies Come from Puppy Mills?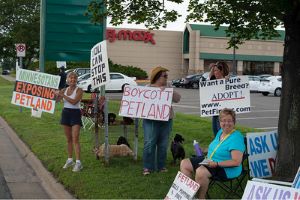 If you've heard of Petland before, you may have heard of the puppy mill scandal surrounding their name.
It was thought for a long period of time that Petland sourced its puppies from puppy mills, which are generally thought of to be harmful and unhealthy for puppies.
However, the company has since told reporters and investigators many times that they source their puppies from USDA licensed breeders only, and do not deal with puppy mills whatsoever. 
Despite Petland's statements to the contrary, investigators from Humane Society have concluded that they do still source their puppies from puppy mills.
While many pet stores throughout the country have transitioned to more humane means of purchasing their puppies, it seems that Petland still sources from controversial puppy mills. 
Are Puppies from Puppy Mills Healthy?
This question is hotly debated between huge pet stores like Petland and human societies and animal rights advocates.
Petland claims that their puppies are healthy in a vast majority, even if they get them from puppy mills.
However, the Humane Society's investigations into the conditions at puppy mills would argue otherwise. 
The Humane Society found that many of the puppies coming from puppy mills and being sold at Petland (and other big pet stores) had infections, diseases, or other health issues.
Petland also refused to compensate buyers for puppies who died of such a health complication only a few weeks after buying them. 
Since the people who run puppy mills only have one concern, that being selling as many puppies to vendors and fast as possible, health and cleanliness are not a priority.
This has been found to lead to a filthy, disease-ridden environment for the puppies that come from puppy mills.
Oftentimes, puppies that come from such environments are not healthy at all.
What Does Petland Do with Puppies that Don't Sell?
Many pet retailers, Petland included, will mark puppies down if they aren't sold fast enough.
The longer they go without being sold, the larger they'll grow and the more food they'll require to stay healthy.
So as this happens, the store will continue to mark the price of the puppy down, even until it gets to the same price they paid the puppy mill or broker for it. 
And if for some reason after all this the puppy still doesn't sell, the store will cut its losses and donate the puppy to its employees or a rescue group or shelter. 
What Are Some Other National Pet Store Chains in the US?
Besides Petland, the largest pet retailers in the United States are Petsmart and PETCO.
Both of these retailers are actually much larger than Petland is, generating impressive income rations compared to smaller pet retail stores. 
Petsmart was founded in 1986, and has since grown to include locations all over the United States, boasting incredibly high revenues as well.
They donate much of their yearly profits to animal aid societies and other charities, which makes spending your money there a no brainer. 
The other major pet retailer, PETCO, was founded in 1965.
PETCO is also dedicated to helping improve the lives of pets all over the country, donating much of their profits to pet aid causes. 
Do These Stores Sell Puppies? Why Not?
Other major pet retailers like PETCO and Petsmart do not offer puppies for sale.
They have recognized the harmful effects of puppy mills and perpetuating the breeding of puppies at harmful facilities like those.
Instead, they offer helpful puppy adoption services to help pair customers with the right dog for them without the harmful effects of buying puppies from puppy mills. 
Where is the Best Place to Buy a Puppy From?
If you're currently looking for a puppy, it can be hard to find a place that offers options that are ethical and varied.
The best option is to buy from puppy breeders who are licensed by the USDA.
Breeders who have such licenses have proven that they are ethical in their breeding practices and provide a healthy and clen environment for the puppies they breed.
Many of these breeders can charge high sums for their high-quality puppies, so if you're working with a tight budget, you may want to look at other options. 
Other options include adopting from pet adoption agencies or even from local animal shelters.
Adopting a dog can help alleviate strain on local animal services who keep stray animals off the street.
Many dogs each year get euthanized for lack of space in such shelters, so if you're looking for a dog and what an ethical option that helps cut back on puppy overpopulation, it may be best to try to adopt. 
Pros and Cons of Adopting from an Animal Rescue Center
There are naturally going to be a few pros and cons that come along with adopting a dog from a shelter.
Thankfully for many, the pros outweigh the cons.
First, if you choose to adopt a puppy instead of buy one, you'll be saving one of the millions of dogs that are euthanized in shelters every year.
You'll also be paying much less for your new canine friend, which can be a huge plus if you're working with a tighter budget.
And finally, you can feel good about helping to alleviate the strain placed on animal shelters from overpopulation. Sounds like a good deal, right?
Of course there are some cons to consider as well.
To start, you'll have to settle for whatever breed of dog they currently have available at the shelter.
You may also have to fill out a lot of paperwork to finalize the adoption.
And on top of this, the dog you adopt may have serious behavioral issues or even emotional trauma for you to deal with. 
Closing Thoughts
It seems like nearly every family in America wants to have their own dog, or sometimes more than one.
When considering where you want to get your puppy from, consider the information we've outlined above.
What impact do you want to have on the pet industry?
Do you want to contribute to unethical puppy breeding practices, or help out a dog in need?
The choice is up to you, but hopefully we were able to help you make the right decision for you.