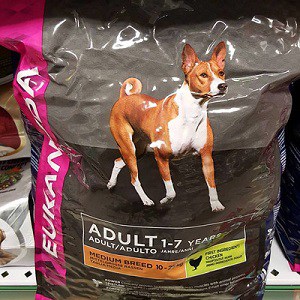 Eukanuba, pronounced as You-Ka-Noo-Bah (in case you were wondering), is a premium pet nutrition brand founded by Paul Iams way back in 1969. 
Often associated as something top-notch, the brand envisions itself as a positive gamechanger to our furry pal's lives by innovating dog food formulas to create high-quality and performance nutrition that'll get your dogs up to speed towards living a healthier and more active life. 
What types of dog food do they make?
The pet nutrition brand offers various types of dog food based on whatever age, breed type, and performance area your tail-wagging companion may be. 
These dog food types include dry foods, wet foods, and of course, tasty treats based on your furry friend's life stage (puppy, adult, or senior) to ensure their nutritional needs are adequately met. 
An example of Eukanuba's popular buys includes the Premium Performance Sprint 21/13 (a catchy name indeed), formulated for athlete dogs to nutritionally gear them for short bursts of intense exercises. 
Packed with 21% protein and 13% fat, this should get your furry athletes in shape for the dog Olympics in no time!
And there's more where that came from with loads of other options and benefits to choose from!
Have there been any recalls on Eukanuba foods in the past 5 or 10 years?
We've done some data digging for you and found out there has indeed been just 1 recall in the last 10 years by its previous manufacturer Proctor & Gamble, back in August 2013.
Before that, the dog food brand has had only 2 product recalls back in 2010 and 2007. As far as we're concerned, Eukanuba has only had a total of 3 product recalls to this very date, so hopefully, their current manufacturers found a solution to prevent contaminations. 
What were the recalls for?
Apparently, the culprit was Salmonella, a bacterial infection that compromises the digestive tract typically sourced from fecal-contaminated raw foods such as meat, eggs, fruits, and even veggies (yikes!).
In this case, the FDA reported a potential case for Salmonella on August 14, 2013, and recalled 20 different types of Eukanuba dry dog foods. These nasty foes may infect us, humans, as well as our furry compadres (which none of us want, just nope). 
Who owns Eukanuba, and when was it last sold (or changed hands…)
Paul Iams was the first owner and founder of Eukanuba (no surprise there).
As Eukanuba established itself over the years since its birth back in 1969, the pet food company grew and was eventually sold to Proctor & Gamble from 1999 to 2014. 
It was until 2014, Mars boldly acquired Proctor & Gamble's pet and food brands, including Eukanuba and a few other pet brands under the company's name.
Which makes Mars, Incorporated, and Spectrum Brands (Europe only), the current owners of Eukanuba. 
Which established brands of dog food have never had a recall?
At this point, your clueless pal might be wondering: "What's a recall?" (Hint: It has nothing to do with fetches in the park).
Well, in short, a recall is when a product (pet food) manufacturer requests to pull back the product from selling outlets due to safety concerns or defects that may jeopardize consumers' wellbeing and health. 
Therefore, it's always a smart move to research for the best-of-quality pet foods and be constantly up-to-date with reports from credible sources such as the FDA and ensure the dog food pack you bought is safe or is the one recalled, to avoid unwanted visits to the vet and maintain a happy and healthy belly. 
If you and your tail-wagging pal have been scouring the web for dog food brands that had zero recalls (like ever), just to play it safe, then you're in for a treat, literally!
We've compiled a list of the top 5 brands per dog food type, so without further ado, here they are: 
Fresh Dog Foods 
The Farmer's Dog 
Nom Nom (creativity level: 999) 
Ollie 
PetPlate 
Spot and Tango (loving the name on this one!) 
So there you have it!
Remember, though these pet food brands have never been recalled (yet), always be on the lookout for outbreaks and religiously read those reports to ensure you're giving the tastiest and safest treats and dog food for your beloved dogs! 
What alternative brands of dog food could I use?
So, you decided to try something new or perhaps just want to avoid the hassle of returning potential Eukanuba recalls. Awesome!
There many other dog food brands out there that offer similar content and quality to that of Eukanuba.
And if your furry pal is reading this right next to you, then we have good news for you!
We've discovered some of the top 3 Eukanuba alternatives that not only serve similar nutritional content but also save our wallets from crying out cash (you're very welcome). 
American Journey Dry Dog Foods 
These babies offer 31.7% crude protein (Eukanuba has 29%), 14.4% crude fat (Eukanuba has 16%), and only 1.75 average controversial ingredients (Eukanuba has 3.14). Best of all, it's 10% cheaper than Eukanuba dry dog foods on average!
American Journey Dry Dog Foods are available on Chewy.  
Blackwood Dry Dog Foods 
The Blackwood Dry Dog Foods pack on 28.4% crude protein (slightly lower than Eunakuba), 16.2% crude fat, and only 0.71 average controversial ingredients! The brand's dog food is priced 15% less than Eunakuba (imagine how many extra treats you could buy with those savings!) 
Blackwood Dry Dog Foods is available on Amazon and Chewy. 
Chicken Soup for the Soul Dry Dog Foods (Yes, just like the famous book) 
And last but certainly not least, Chicken Soup for the Soul Dry Dog Foods should have your furry pal and your wallet enlightened with joy as this is, in fact, the cheapest alternative among the three!
The brand serves 28.2% crude protein (also slightly lower than Eunakuba), 14.4% crude fat, and 1.27 in average controversial ingredients. This dog food pack costs about 21% less than Eunakakuba without sacrificing quality for cost efficiency. 
Chicken Soup for the Soul is available on Amazon, PetFlow, and Chewy. 
Note: These brands have no harmful ingredients (phew, right?) and lower average controversial ingredients than Eunakuba. 
How should I transition my dog from one dog food to another?
Just like moving to a new city, it takes adjustments for a smooth transition to something new, and in this case, a new dog food brand. A sudden shift in your dog's food could enrage the gastrointestinal beast inside your furry pal (which neither of us would want, right?), which may cause vomiting and diarrhea (thank you, next, please). 
So, how do you properly make a successful dog food shift? As always, we got you! The answer to this question is a gradual shifting from your dog's old diet to a new one. This is done by slowly adding small proportions of the new dog food while still having the majority proportion from the old dog food. The adjustment process typically takes about 7 days at most or earlier, depending on how your dog responds to the new diet change over time. For an idea of how the proportions should be throughout the adjustment period, we've made it simpler for you: 
Day 1: 25% new and 75% old diet.
Day 3: Half new and half old diet.
Day 5: 75% new and 25% old diet.
Day 7: 100% completion of new diet shift (yay!). 
Please note that not all dogs respond the same way. Some may take longer, and some may be quicker as factors such as sensitive bellies or allergies to certain ingredients may affect the adjustment period. If you have any dog diet-related concerns, always consult with your local vet to put the best paw forward to your furry pal's health and belly wealth. 
What is the best place online (apart from Amazon) to buy dog food?
We all know Amazon sells almost anything you could possibly think of, such as dog treats, dog beds, dog shoes, or whatever your furry pal's big heart could possibly desire (except for jet packs), but are there other places where you can get the same dog food supply? Absolutely! 
Aside from Amazon, you can easily order and purchase your dog food on websites such as Chewy and PetFlow for a zillion dog foods and treats to choose from! 
Closing Thoughts
Though Eunakuba is still offering the same formulated dog food for the past 52 years, it's always a delight knowing that there are other options that also offer similar product content and quality. There's a saying that goes: "Don't see the world through a keyhole, not realizing you were standing in front of a door you can open." 
We hope the beholder of our bestowed wisdom will serve you, your loyal companion, and even others to ensure dogs of all shapes, sizes, and colors can live a healthy and p-awesome life without having to worry about dog food safety and quality.