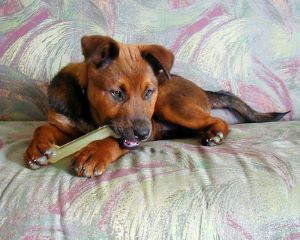 If you have a dog, chances are you've walked into a pet store at least once. 
With aisles of smelly treats and dog toys in every size and color, it's no wonder it's so easy to get overwhelmed when shopping for your furry friend. 
With so many options, it's hard for dog owners to decide which toys are safe for their dog to enjoy. 
One chew that dogs seem to really enjoy are Nylabones, a toy that's taking pet store shelves by storm. 
With every flavor and color imaginable, Nylabones are a toy dog owners love—their odor is undetectable by humans, they make very little mess, and owners love watching their dogs enjoy a chew that lasts. 
But is the cost of the chew worth it? 
And are they safe for dogs to chew regularly? 
Read on to learn a few tips about Nylabones and some additional alternatives to this popular chew. 
What is a Nylabone?
It's no secret that dogs love to chew.
As a pet owner, providing them with safe chews that will satisfy that need can be difficult. 
Since 1955, Nylabone has been making chews to fill this gap in the market, creating veterinarian-recommended toys that occupy and entertain dogs. 
But what exactly is a Nylabone? And what is it made of?
A Nylabone is a non-edible hard, plastic chew toy. 
They can often be found on the toy shelves of pet stores, accompanied by rows of antlers and animal bones. 
Nylabones come in all different shapes, like rings, wishbones, and traditional bones. 
Additionally, they have many different flavors, ranging from chicken to cheeseburger to even funnel cake! 
Offering unusual flavors like vanilla milkshake and peanut butter gives dogs lots of choices, making sure that even the pickiest dogs have a chew toy they love. 
What are the main types of chew toys that Nylabone make?
Although the Nylabone company makes many different products, there are a few chews that seem to be their bestsellers. 
One of my favorite options that Nylabone offers is their Small Dog Value Pack. 
This is an affordable choice that comes with three different bones for dogs to try, a healthy edible bone, a dental chew, and a flexi-chew for moderate chewers. 
It's often difficult to find good quality chews for small dogs and the Small Dog Value Pack is a perfect option to satisfy that need. 
Nylabone doesn't just make toys for small dogs—they make chews in all sizes. 
My 70 pound standard poodle absolutely loves the Xlarge Durachew Textured Ring Chew Toy. 
This toy keeps my dog busy for hours and the ridges do a great job cleaning his teeth while he chews away. 
This toy is a great boredom buster for large dogs and super chewers. 
If you have a puppy, Nylabone has got you covered—they make chews for young dogs, too. 
The Nylabone Puppy Petite Dental Puppy Chew Toy is a great option for puppies to learn and develop proper chewing habits. 
These bones are made for jaws that aren't developed yet, satisfying the need for chewing without damaging important bone structures that puppies don't have yet. 
At less than $5, this chew toy is a no-brainer that's perfect for all breeds of young dogs.
Nylabone makes many different options to satisfy all chewers. 
If you'd like to see some other flavors and styles, check out all of the products the company has to offer on their website here: https://www.nylabone.com/products/product-type/chew-toys
It's easy to see why dog's love Nylabones, especially with all of the different options that the company offers. 
Read on to find out what veterinarians think about Nylabones. 
Why are Nylabone chew treats so good for your dog?
Veterinarians love Nylabones, and it's no wonder why. 
Nylabone chews relieve boredom, anxiety, and stress, by helping dogs manage their emotions through satisfying their chewing instincts. 
The chew toy was developed by a collaboration of veterinarians, dog trainers, and pet parents to ensure that dogs can chew safely. 
Each new chew released is tested by dog parents to guarantee the product can hold up to the company's standards. 
Nylabones are one of the few toys on the market that satisfy both mental and physical enrichment. 
But what other alternatives are there?  
Nylabone alternatives
While Nylabones have become popular with pet parents in recent years, they aren't the only toy on the market made to satisfy super chewers. 
Benebones are another favorite with pet parents, made up of a similar material to Nylabones. 
Made of Nylon, Benebones are infused with real flavors like Chicken, Beef, and Bacon. 
Benebones come in a few different shapes, like their wishbone and zaggler. 
It should be noted that Benebones tend to be a little bit pricier than Nylabones and they don't come in as many varieties as the Nylabone does. 
Yet, that doesn't seem to deter the dogs that love them. 
Another great alternative to Nylabones are Kongs. 
Kongs are toys with a specially formulated design to provide hours of enrichment for dogs. 
Kongs are made of a durable rubber that are easy to clean and hold up to super-strong chewers. 
Kongs have a hole in the center that can be filled with treats like wet dog food, peanut butter, or canned pumpkin. 
The company even has a section on their website for special recipes to fill Kongs with to entertain them for long periods of time. 
My dogs personally love this alternative to Nylabones, and he loves bouncing the rubber Kong around the kitchen once he's done getting the treat out of the center. 
Kongs are definitely more expensive that Nylabones, but they do hold up for a long period of time and they aren't easily destroyed. 
The original Kong is still a best seller and you can buy it here. 
Real bones vs Nylabone (or any plastic or fabric chew toy) pros and cons
There are so many pros to Nylabones and other synthetic alternatives like Benebone or Kong. But what about the other options in the dog chew aisle? 
Nylabones are a favorite among pet parents because they are developed to satisfy chewing safely. 
Though, not all bones are safe to chew. 
Real bones, like beef marrow bones, knee bones, and hoofs, can be found in the same aisle as Nylabones, but that doesn't mean that they're safe. 
While many people still like giving bones to their dogs, bones are so hard that they can cause your dog's teeth to break. 
They're often not recommended by veterinarians due to this health concern. 
These types of bones can also splinter off when chewed, which can be very dangerous and warrant emergency surgery if ingested. 
Like bones, antlers are also available in the chew aisle of pet stores. Read on to learn more pros and cons to chew alternatives. 
Nylabone vs antlers. Pros and cons
Like bones, antlers can also be very hard on dog's teeth and jaw structure. Antlers are often at the top of the list of popular dog chews, but they aren't as safe as Nylabones. 
Antlers can vary in different grades of softness and quality. 
Because they are derived naturally from animals like deer and elk, it's hard for companies to develop a standard for their products. 
In the wild, antlers are used by animals when fighting and can hold up through extreme conditions. 
While dogs seem to enjoy chewing them, their purpose isn't made to be a dog's chew toy—it's to support wild animals. 
This is just one of the many reasons why Nylabones are a better alternative, considering they are developed by veterinarians to ensure their safety. 
Nylabone vs rawhide. Pros and cons
Like Nylabones, rawhide is developed for dogs. 
Available pretty much everywhere and at relatively inexpensive prices, pet parents tend to flock towards rawhide chews. 
When chewed properly, rawhide can be a semi-natural treat that dogs enjoy. 
However, it is important for pet parents to know exactly how rawhide is made before giving it to their dog. 
Rawhide is developed from the soft hide or skin of an animal, particularly cows. 
After being harvested, the skin is soaked in a chemical bath to preserve the product during packaging and transport. 
It is then cleaned and formulated into a shape that dogs can easily grasp. 

One important thing to note about rawhide is that the regulations in the US are different than rawhide that is imported. 
Pet owners should always check to make sure the rawhide products they buy are made in the USA—rawhide treats made internationally can contain an extra dose of chemicals and even arsenic or formaldehyde, both of which are banned from the process in the USA. 
When consumed properly and sustainably sourced, rawhide can be an option for dogs to chew. However, pet parents should be sure to observe dogs that chew rawhide—the pieces can be ingested and cause blockages that may need emergency surgery, if large enough. 
Although rawhide is considered natural, it's not necessarily better than a Nylabone. 
Rawhide is covered in chemicals that aren't always regulated, unlike Nylabones that are specifically designed for dogs.  
At what age should puppies be given their first toy?
Dogs love to chew and puppies are no exception. 
Most puppies begin playing by a month old as they explore their world and learn about their environment. 
Playing allows puppies to safely investigate their surroundings and enrich their growing body and mind. 
The best toys for puppies are generally soft toys that they can nibble on or fetch that are different or entertaining, like puppy Nylabones. 
Developed specifically to suit this need, the Nylabone Teething Pacifier Puppy Chew Toy is a Nylabone that puppies can chew, fetch, and toss around with their owners. 
At less than $10, this is a great affordable option for pet owners. 
Shop the toy here at Chewy.com: NYLABONE Teething Pacifier Puppy Chew Toy – Chewy.com
Closing Thoughts:
Dog's love Nylabones, and it's not hard to see why. Formulated by vets, pet parents, and dog trainers, Nylabones are made for safe chewing and hours of enjoyment. 
Although Nylabones have many alternatives like antlers, bones, and rawhide, not all alternatives are safe.
The best substitutes for Nylabones are options like Benebones or Kongs, which can provide safe mental stimulation and dental cleaning. 
No matter what chew treat you choose for your dog, always be sure to check that the toy is a suitable size and density for your dog's breed and weight.
If you're not sure, it's always a good idea to consult with a veterinarian to pick a toy that will provide your dog with hours of safe enrichment and fun.