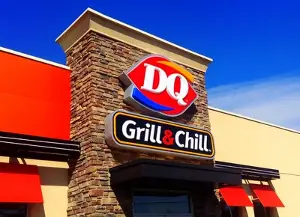 It's good to be a dog these days, especially in the US where many of the big food chains have started offering special dog treats. 
Sometimes even free of charge. Well, dogs don't care about money, but their parents sure do.
One of the first companies to introduce doggie treats is Dairy Queen, which has a Pup Cup especially made for four-legged customers. 
And it's quite delicious, as it's filled with the company's famous soft-serve ice cream. 
Also, it's much appreciated by dogs, but is it safe?
What you will learn from this article:
Let's find out!
What is Dairy Queen?
Dairy Queen was launched in 1940 and it grew from one store in Illinois to an international franchise. 
In 2014, the company had over 6,500 stores in 25 countries. 
Well, most of them are in the US, but they're known worldwide. 
The idea behind Dairy Queen belongs to John Freemont McCullough who, in 1938, created the soft-serve, a new type of ice-cream which is, well, soft and airy. 
And it was an instant success. 
1,600 servings were sold in two hours on the day the first Dairy Queen opened.
And it's exactly this soft-serve ice cream that it's now offered to canine customers. 
Unfortunately, not all stores participate in the Pup Cup program, so don't get Fido's hopes up he's in for a treat before making inquiries at your local Dairy Queen.
Nowadays, most Dairy Queen stores have expanded their business, and their menus, and serve full hot meals besides their various ice creams and milkshakes. 
What's the difference between ice cream and soft-serve?
Modern soft-serve is made with a machine that incorporates more air into a normal ice cream mix. 
This prevents soft-serve from freezing like a normal ice cream, but it tastes just as good. 
Regular ice cream is made with sugar, cream, non-dairy products, skim milk and flavorings. 
Soft-serve, as in a Pup Cup, contains all the ingredients above, but has less milk fat. 
This is why it's considered to be healthier for people and dogs alike. 
According to USDA standards, ice cream should contain 20% cream, 10% milk and less than 10% fat.
What is in a Dairy Queen Pup Cup?
If you ask for a Pup Cup what you get is a plastic cup with a small serving of vanilla soft-serve ice cream and a dog biscuit floating in it. 
At certain stores your dog might get more than 1 biscuit, but don't count on it.
Also, you'll have to pay for your dog's treat. 
It did start as a freebie, but once they got their canine customers hooked on it, they made the Pup Cup $1.39, which is not that much considering the price of a meal at Dairy Queen.
What are the ingredients in a Pup Cup treat?
Dog biscuits are pretty much the same, and they're not the issue here.
What matters is the ice cream.
One serving (half a cup) of vanilla soft-serve ice cream packs 125 calories. 
This is the first thing you should worry about. 
Can your dog eat that many calories in one small treat that he's going to polish off in a matter of seconds?
That depends on the dog. 
If he's already chubby and prone to obesity, a Pup Cup is definitely what he needs. 
On the other hand, for a young fit dog such a yummy treat once in a while won't hurt. 
The key word here is one in a while. 
If you're the kind of guy that goes out a few times a week and eats at the local Dairy Queen, no way you should take your dog with you every time. 
Once a month is fine, but three times a week is very bad for your dog's health.
Milk & Cream
A bit of milk or cream are not a problem, unless your dog is lactose intolerant. 
Many dogs are, in fact, so if this is the case for your pet, better forget about the Pup Cup. 
How do you know if your dog has a lactose intolerance? You can easily tell if they develop the following symptoms after you feed them a little milk:
Diarrhea
Vomiting
Abdominal pain
Gas
If your dog doesn't have a problem with milk, a Pup Cup won't be a problem.
Sugar
One serving of soft-serve vanilla ice cream contains 17 g of sugar, and that's a lot of carbs for a dog that already has a weight problem. 
Sugar is bad for your health, but you still eat it. 
It's the same for dogs. 
They do need carbs to transform into energy, but it shouldn't come from sugar. 
Does it mean a Dairy Queen Pup Cup should be off limits? 
Technically, yes, you shouldn't allow your dog to make the same mistakes you do. Realistically speaking, few pet parents would find the strength to resist the temptation to make their dog happy with such a lovely treat. Don't worry, we get that! 
Once again, if it's the exception rather than the rule, your dog will be fine. A sugary treat once in a while won't kill a dog. 
Regular unhealthy treats will, by making him obese or causing diabetes. 
Fat
You should always keep an eye on the fat content in your dog's food. 
There is 3.4 g of fat in a soft-serve serving. 
A 30-pound healthy dog should get around 14 g of fat per day. 
The occasional Pup Cup won't cause any health issues, but a dog with a high-fat diet is at risk of developing digestive problems, pancreatitis, not to mention the damage to the arteries. 
Calcium
The good news is that ice cream contains a lot of calcium. 
A regular serving has 113 grams of calcium, so that's good for your dog's bones and teeth. 
And a moderate amount of protein, 3.40 g. 
Can a dog eat ice cream?
By this point, you can probably guess the answer is no. 
It's not a definite no-no, as in this stuff is toxic to your dog, but it's best to avoid giving ice cream to your dog.
If you must, at least make sure it's vanilla ice cream. 
Chocolate ice cream is dangerous to dogs, as it contains theobromine and caffeine, which are both toxic to your canine companion. 
What is a healthy ice cream for dogs?
If you want to help your pet cool off on a warm day, make some special ice cream for him. 
Homemade ice cream isn't any better than a Pup Cup, as it still contains too much sugar and milk. 
And fats.
The healthiest doggie ice cream you can make is low-fat frozen yogurt. 
The milk in yogurt is way easier to digest so it won't cause stomach problems, unless your dog has a very sensitive stomach.
If you're looking for something tastier, something that your dog will truly appreciate, try out this recipe. 
It's still yogurt-based, but it also contains bananas and peanut butter, both of which are highly-nutritious and healthy for your furry buddy. 
Also, it's quite easy to prepare. 
It only takes 5 minutes tops and all you need is a food processor.
What other stores offer dog treats?
Many food chains have jumped on this doggie-treat trend, and Starbucks is certainly the best known among them. 
If you didn't know that, at Starbucks you can ask for a Puppuccino, which is nothing but a little whipped cream in a plastic cup. 
And it is offered free, if, of course, you order something for yourself.
Whipped cream is not ideal for dogs, as it's nothing but empty calories, so you should keep it as a very rare treat.
Dunkin Donuts has a similar dog treat, whipped cream in a cup. No biscuits, sadly.
Sprinkles, the famous bakery chain, has dog-friendly pupcakes, made with sugar, egg whites and buttermilk. 
They also have a sugar-free version, but it's best to ask what they use instead of sugar. 
Xylitol, one of the most popular sugar alternatives in the food industry, is toxic to dogs. 
Culver's has something very similar to the Pup Cup. They offer dog biscuits with a small side of vanilla ice cream.
Shake Shack takes its four-legged clientele seriously and they have two treats for dogs. 
You can get a Pooch-ini, which is made of biscuits and a vanilla custard filling. Or you can order a Bag of Bones, which is actually a small paper bag with five dog biscuits in it.
In-N-Out has a really interesting treat for dogs, a salt-free burger. Unfortunately, they only have stores on the Southwest and Pacific coast. 
Also, if you visit California, check out the Lazy Dog Restaurant & Bar. 
No, the chain is not dedicated to dogs, but to humans. 
However, if you take your dog with you, you can order a delicious hamburger or grilled chicken breast. 
And, no, that's not free, obviously. 
But it's definitely the healthiest treat on our list. 
Closing Thoughts
Treating your dog to a Pup Cup at Dairy Queen once in a while won't cause any real harm. 
A bit of ice cream on a hot day will help your dog cool off, but that's it. 
You should not make a habit of it. 
A Pup Cup is better than many other human treats, but it still has more sugar and fats than your dog needs. 
Also, make sure your dog is not lactose intolerant before taking him out for an ice cream if you don't want to spend the night cleaning after your dog.
If you want to give your dog something special, try homemade doggy ice cream, with yogurt, fruit and peanut butter.