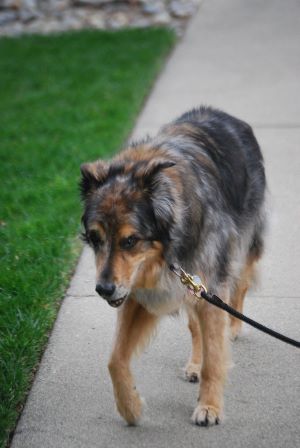 If your dog begins to stumble on its front legs, they could be suffering from a wide range of medical issues, anywhere from neurological deterioration to a spinal injury. 
The dog's stumbling may appear like paralysis in its front legs or as general clumsiness. 
Both types of stumbling can be indicative of more serious issues. Loss of balance in dogs is not normal and should not be ignored. 
If your dog shows signs of any of the following issues, you should schedule an appointment with your vet as soon as possible.
If your dog cannot walk or stand at all, a trip to the emergency vet may be needed. 
The vet will probably run a number of tests such as physical examinations, mobility tests, X-rays and blood work to determine the source of the problem. 
Diagnostic imaging may be done to identify whether the paralysis is related to the nervous system, skeletal system or muscular system. 
With an accurate diagnosis, your vet will be able to lead you and your dog on a treatment path based on their condition. Listed below are some possible diagnoses:
(1) Spinal Injury
This is the most common cause of paralysis in dogs' legs, causing them to stumble about.
After a direct blow to the shoulder or when the front leg is pulled out from the body, the shoulder's nerve tissue may detach from the shoulder joint, causing a brachial plexus avulsion.
Symptoms
Inability to bear their weight
Severe weakness
Loss of sensation below the elbow, causing the dog to flex their wrist and drag their paws against the floor. Vets refer to this as "knuckling over."
Occasionally eye abnormalities such as sunken eyes, droopy eyelids and smaller pupils.
Common Causes
Falls
Automobile accidents
Gunshot wounds
Possible Treatments
Bandages and protective boots
Physical therapy
Anti-inflammatory medication
(2) Arthritis
Osteoarthritis is a common cause of stumbling, especially in older dogs. After a diagnosis, your vet can help you come up with a plan of treatment for your dog.
Symptoms
Inflamed and painful joints
Muscle atrophy
Weakness in legs
Less movement
Common Causes
Cartilage breakdown
Old age
Previous injury
Obesity
Infection
Genetics
Possible Treatments
Although no known cure exists for osteoarthritis, certain steps can be taken to mitigate the pain.
Healthy diet
Exercise
Joint supplements
Prescribed medication
Physical therapy
(3) Tumors
Nerve sheath tumors can trigger paralysis in parts of the dog's body. Several diagnostic tests such as myelograms, CT scans and MRIs may be needed to confirm or rule out tumors.
Symptoms
Pain when touching the armpit area or moving the leg
Chronic paralysis in one leg that gradually worsens
You can feel a large mass
Muscle atrophy
Common Causes
Unknown. Nerve sheath tumors can grow for no known reason and affect the neighboring tissue.
Possible Treatments
Surgery to remove the tumor
Amputation of the affected leg
Spinal surgery if the tumor spreads into the spinal canal
If surgery cannot be performed, radiation therapy may be an option
(4) Brain Tumor
In older dogs, a brain tumor may be the cause of stumbling and loss of balance. Brain tumors do not cause paralysis, but rather a general clumsiness in the legs.
Symptoms
Staggering, stumbling and loss of balance
Changes in behavior and appetite
Seizures
Signs of pain
Head tilt
Swaying
Wide stance
Lack of coordination
Head tremors
Flicking of the eyes
Pacing
Circling
Common Causes
There is no known definitive cause of brain tumors in dogs.
Possible Treatments
Neurosurgery
Radiation therapy
Chemotherapy medication
Steroids
Medications for seizures
(5) Ataxia
Ataxia refers to incoordination of the nervous system. While it can occur anywhere in the dog, we are focused on ataxia in the spinal cord, since that is where front leg issues would arise. 
Symptoms
Staggering, stumbling and falling over
Head tilt
Circling
Vomiting
Nausea
Flicking of the eyes
Common Causes
Loss of spinal cord tissue (also known as degenerative myelopathy)
A stroke to the spinal cord
Abnormality of the spinal cord
Tumors in the spine or spinal cord
Inflammation of the spinal cord
Trauma to the spinal cord
Infection in the vertebrae or intervertebral discs
Instability in the spine
Narrowing of the spinal canal
Possible Treatments
Pain management
Pain, inflammation or infection medication
Braces
Supplements
If caused by tumors and cancer, chemotherapy, radiation therapy and surgery may be needed
(6) Ear Infections
If your dog is more wobbly or clumsy on his front legs than paralyzed, they may have an inner ear infection. The inner ear is what controls dogs' sense of coordination and balance. If infected, dogs can become disoriented and their proprioception can be affected. 
Symptoms
Loss of balance
Head shaking
Scratching
Circling
Flicking of the eyes
Redness, swelling, discharge and odor in or around the ear
Common Causes
Bacteria in the ear is the most common cause
Yeast
Fungus
Ear mites
Foreign objects in the ear
Physical trauma
Tumors
Polyps
Possible Treatments
Your vet may thoroughly clean your dog's ears using a medicated cleanser. They may also prescribe any of the following: 
Ear cleanser
Topical medication
Oral antibiotics and anti-inflammatory medications
(7) Head or Inner Ear Injury
Injuries to the head or inner ear can also cause dogs to lose their balance and sense of coordination. Your dog may have a concussion or damage in the inner ear. 
Symptoms
Loss of balance
Heavy panting
Slowed reflexes
Change in Appetite
Enlarged pupils
Anxiety
Reluctance to lie down.
Common Causes
Automobile accident
Altercation with another dog
Falls
Possible Treatments
Bandages on the ear
Pain medication
Oxygen
IV fluids
Medication to expel water and salt
Steroids
Surgery in severe cases
(8) Brain Inflammation
Also known as encephalitis, brain inflammation can occur in your dog for a wide range of reasons. Encephalitis can often be cured or mitigated if identified early and treated aggressively. Young and middle-aged dogs as well as smaller breeds are more prone to encephalitis. 
Symptoms
Loss of balance
Seizures
Disorientation
Changes in behavior
Circling
Spinal pain, particularly in the neck
Occasionally fever
Common Causes
Bacterial, viral, fungal or parasitic infection of the brain
Malfunctioning immune system
Possible Treatments
Treatments depend on the cause of the brain inflammation but can include:
Antibiotics
Anti-fungal medication
Medications that suppress the immune system
Steroids
(9) Vestibular Disease
Often related to the brain and the inner ear, vestibular disease is a sudden, non-progressive loss of balance and coordination, usually in older dogs. Most of the time, the symptoms can resolve on their own after several weeks.
Symptoms
Sudden loss of balance
Disorientation
Head tilt
Flicking of the eyes
Leaning or falling in the direction of the head tilt
Common Causes
Middle or inner ear infections
Medications toxic to the ear
Physical trauma or injury
Tumors
Hypothyroidism
Possible Treatments
IV fluids
Sedatives
Nausea medication
Antibiotics
(10) Wobbler Syndrome
Common in larger breeds, particularly Doberman pinschers, Wobbler syndrome is a disease of the neck that affects the spinal cord and spinal nerve roots.
Symptoms
Loss of balance
Lack of coordination
Muscle atrophy
Knuckling over
Neck pain
Weakness
Common Causes
At this time, there is no known cause for Wobbler's syndrome. Some believe that genetics may play a factor, but there is no evidence to support that claim yet.
Possible Treatments
Pain management and medication
Anti-inflammatory medication
Activity restriction
Use of chest harness over neck leash
Surgery
(11) Intervertebral Disc Disease (IVDD)
IVDD is a degenerative disease caused by a ruptured, slipped, bulging or herniated disc that can cause pain and mobility issues in your dog.
Symptoms
Partial loss of movement
Stumbling
Peculiar gait
Paralysis 
Weakness
Stiffness of the neck
Back pain
Crying or yelping when handled or picked up
Shivering
Reluctance to run or play
Common Causes
Gradual physical trauma over time (i.e. jumping on the couch, hard landings…)
Old age
Severe injury
Possible Treatments
Pain medication
Anti-inflammatory medication
Cage rest
Physical therapy
Surgery
(12) Stroke
Strokes in dogs are more uncommon than the other injuries and illnesses listed, but they are still a possibility. If you suspect your dog is having a stroke or has had a stroke, take them to the vet immediately.
Symptoms
Loss of balance
Head tilt
Circling
Falling down
Loss of vision
Common Causes
Blood clots
High blood pressure
Hemorrhage
Head trauma
Kidney disease
Migrating worms
Possible Treatments
While there is no specific treatment for the damage already done by a stroke, your vet will work towards finding the underlying cause of the stroke and, if possible, treating it to prevent future strokes.
Conclusion
If your dog is experiencing symptoms of any of these conditions, your best bet will be to take them to the veterinarian. While we hope this article was informative, only a vet can provide an in-depth diagnosis for your dog and their particular situation. Before your appointment, be sure to list all the symptoms your dog is experiencing, when they started and how often they occur to best help the vet in treating your dog.