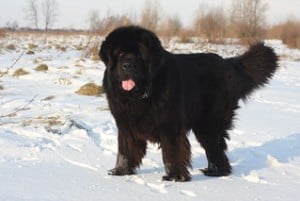 Have you just been out for a walk and seen a big black bear?
Has that got you thinking about your next dog?
"Wouldn't it be great to have a dog that looks like a black bear?"
Well in this article I will introduce you to nine big black and fluffy dog breeds.
But before we dive into that list, let's take a look at a couple of important things to think about owning a large breed dog with lots of hair….
Pros and cons of owning a big dog
When it comes to describing the advantages and disadvantages of dog ownership, it may become a bit muddled because one person's pro is another person's con.
But to me, there are two clear benefits to owning a larger dog.
Firstly, larger dogs tend to be cheaper than small dogs.
Secondly, is that big dogs are a more obvious guard dog than smaller ones.
There are some factors of big ownership that could be either a pro and con.
And the biggest one that I can think of is that big dogs tend to need more exercise than smaller dogs.
In terms of some of the drawbacks of owning a larger breed, there are four:
More expensive to feed
More mess
Harder to clean
Harder to dry!
9 big, black, long haired dog breeds
And now that we have taken a fleeting look at some of the major things to think about when owning a larger breed of dog, let's move on and consider long hair…
Pros and cons of owning a dog with fluffy, long hair
Having had a quick brainstorm for the most important things to consider about dogs with long hair, some of them are the same as the factors described above.
And those are that long haired dogs are harder to clean, harder to dry and they make more mess than a short haired dog.
The one advantage of owning a long haired dog is that they tend to look cuter and more cuddly than a short haired dog.
But they do come with a few disadvantages and I can think of two:
More grooming
Create more "dog" smell
One you have considered all of these different factors involved in owning a dog, it is time to move on and describe these fifteen big, black long haired and fluffy dog breeds. 
[1] Newfoundland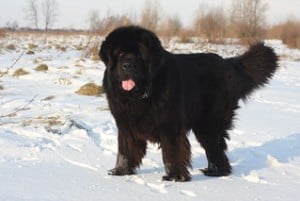 The Newfoundland is a large, heavily coated working dog breed native to Newfoundland, Canada. Newfoundlands have a muscular build with thick double coats and webbed feet, dogs of this breed are known for their giant size, immense strength, intelligence and loyalty. 
They grow up to 28 inches at the shoulder and weigh about 100 to 150 pounds. Newfoundlands are powerful working dogs of heavy bone, they are natural swimmers and were once used by Canadian fishermen. 
These dogs have flat and coarse coats which are usually black, brown, or grey but can also be white-and-black. Despite being on the list of the world's largest dogs, Newfoundlands are very loyal dogs, and they make excellent pets for families with kids. 
These dogs are known to be natural babysitters due to their patience, they are sweet-tempered with a soft expression and calm disposition. As good swimmers, Newfoundlands make excellent water rescue dogs. 
[2] Long haired German Shepherd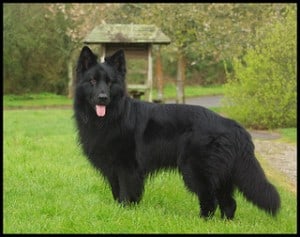 One of the most popular dogs in the world, German Shepherds are medium to large-sized dogs known for their intelligence and loyalty. The major difference between long-haired GSDs and standard GSDs is the long fur of the former. 
Standard German Shepherds usually have medium to short coats and the long-haired dogs are much rarer because the gene for long hair is recessive. Unlike their short-haired siblings with thick double coats, long-haired German Shepherds have single coat with long fur, this is considered a "genetic defect" and therefore they are not recognized by the American Kennel Club. 
7 black short haired dog breeds
Long-haired GSDs will stand as tall as 26 inches at the withers and weigh between 50 and 70 pounds. These dogs usually have black masks and coat colour varies between black and tan or rusty red, there are also all-black GSDs and all-white, silvery, blue or liver varieties which are rare. 
German Shepherds are known to be very intelligent and highly trainable dogs, they make good family companions and excellent guard dogs. These dogs are very obedient and have been extensively used by the police and military.
[3] Black Russian Terrier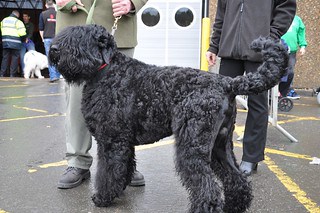 Although they are called terriers, the Black Russian Terriers are actually not true terriers.
This dog was bred in the former USSR and used as a working dog by the military. The Blackies are a rare dog breed, and unlike many large dog breeds they are slow to mature. 
They have thick double coats, with hard and dense outer coats which are usually pure black but sometimes with a sprinkle of grey hairs. Blackies are very intelligent and obedient, they are easy to train and have no problem responding to commands. 
These dogs make excellent family pets and companions, they are usually very active, energetic and love to play outdoors. Adult Blackies can stand as tall as 30 inches at the shoulders and weigh from 110 to a little over 130 pounds. 
[4] Bernese Mountain Dog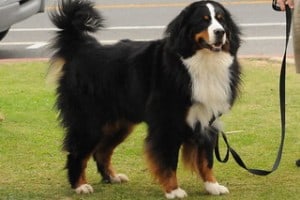 The Bernese Mountain Dog is a heavy Swiss working dog breed known for its distinctive tricolour coat; black, white and tan. 
Yes, I know that this list is all about dogs with black coats but I couldn't help myself sneak this dog in!
These dogs were originally used for herding, but today they are known to be very affectionate companions and good guard dogs. 
These dogs thrive in cold weather, thanks to their very thick coat and long fur which is almost completely black but has a white chest enveloped in rusty red or tan markings. The white and tan colours appear mostly around the chest areas and some parts of the face. 
A Berner (as they are sometimes called) can grow to about 28 inches tall and weigh from 80 to 120 pounds. The females are a bit smaller and will grow as tall as 23-26 inches and usually weigh no more than 100 pounds. 
The Bernese are very intelligent, they are gentle with kids and non-threatening to strangers. Hillary Duff, an American actress and songwriter, had a devoted Berner who lived for 10 years. 
[5] Afghan Hound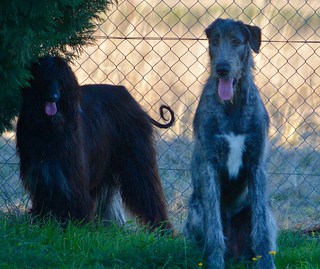 Formerly called Tazi, the Afghan hound is an ancient dog bred in Afghanistan for hunting large prey in deserts and mountains, this dog is popular for its long, silky coat, and elegant build. 
The Afghan hound has a long head and narrow muzzle with long ears that are covered with long hair. The entire body of this dog, head, shoulders, back, legs, are covered with long flowing hair like human hair, it has a regal appearance and a majestic pose. 
The Afghan hound will grow to about 25 to 27 inches tall at the shoulders and weigh between 50 and 60 pounds. The long fur of these dogs are mostly black, black-and-tan, brindle, blue, cream or white. 
True to their nature as hunting dogs, Afghan hounds are independent, strong-willed and self-confident, they make very good companions and bond well with their humans, however they need proper training and socialization. 
[6] Irish Wolfhound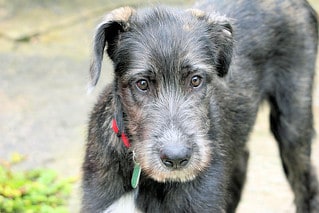 On average, Irish Wolfhounds are the tallest dog breed in the world. These large dogs were originally bred for hunting large prey such as boar, deer and wolves, they were also used in war to drag men off their horses and chariots. 
Dogs of this breed have the body structure of greyhounds but are stockier and bigger. They have long legs, deep-chested narrow bodies with slender waists. The average height of an Irish Wolfhound is taller than the Great Dane; they can grow up 36 inches tall at the shoulder and weigh at least 120 pounds. 
While standing on their hind legs, Irish Wolfhound can tower up to 7 feet tall, taller than most humans. These dogs may be large, but they are non-threatening and absolutely sweet to everyone. They make loving companions, great family pets, and they're gentle with kids. 
Despite their enormous size, Irish Wolfhounds don't make good guard dogs because they are not suspicious of strangers, they may be great hunting dogs capable of killing large animals, but they are not aggressive to humans. 
[7] Borzoi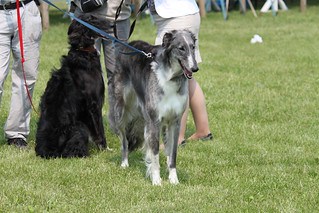 The Borzoi is a large Russia sighthound originally bred for coursing and hunting rabbits, foxes and wolves in small groups of about three. They later became popular as a companion for royalty across continental Europe. 
Dogs of this breed are as elegant as the greyhound, they have relatively narrow bodies with long and slender legs, deep chest and tapered waist with a narrow head. The Borzois elegance is evident in their graceful pose and every stride, they can stand as tall as 28 inches at the withers and tip the scales at 105 pounds. 
As hunting dogs, Borzois were bred to be very fast and strong enough to chase down a prey. These dogs have silky, flat and wavy coats that come in virtually any colour, but are most commonly seen with completely black coats. Some come in yellow-and-white, or completely white coats. 
You will also find Borzois with red-and-white coat, black-and-white coat, white-and-brown coat, or white-and-grey coat, these dogs come in many different colour combinations. Borzois are known for their cat-like independence and stubborn nature, they are strong-willed but with proper training they make affectionate family dogs.
[8] Tibetan Mastiff
As the name suggests, the Tibetan Mastiff was bred in Tibet and used for guarding livestock and property. This dog breed dates far back to over 3,000 years ago and is currently one of the oldest dogs in the world. 
Tibetan Mastiffs are easy-going, good-natured and loyal to their families but will be aloof to strangers. TMs have powerful and muscular bodies with broad heads and V-shaped ears, they have double coats with long outer fur that comes in a variety of colours and patterns. 
They come in solid black, black-and-tan, bluish-grey, different shades of red including deep-red, golden or very pale red — sometimes these dogs come with white markings. 
From the paws to the withers, the Tibetan Mastiffs measure about 26 inches and weigh over 100 pounds. TMs make good companions and show dogs, they enjoy family life and stay loyal to their humans. 
[9] Giant Schnauzer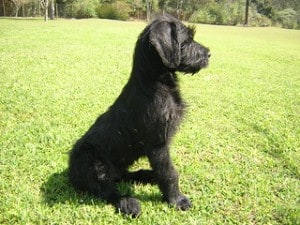 The Giant Schnauzer is a German working dog used for driving cattle and guarding property. These dogs are very intelligent and courageous, they have an imposing appearance, stoic and muscular build but are actually very playful and sweet. 
Giant Schnauzer are the biggest of the three Schnauzer breeds, they stand as tall as 27.5 inches at the shoulders and weigh up to 95 pounds. The Giant Schnauzer has a double coat which is usually solid black but sometimes it can be pepper-and-salt. 
These dogs make great companions but need very serious training and lots of exercise, they are very energetic and will always need to channel this energy into some meaningful activities. 
This is a dog breed with a big personality and their playfulness and high-spirits may be challenging to a first-time dog parent. 
[10] Bouvier Des Flandres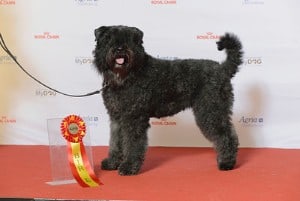 The name Bouvier Des Flandres translates roughly into Cowherd of Flanders. This courageous and strong willed workdog also has a softer more affectionate side. With an impressive build these dogs can pretty much do any farmyard tasks that you can throw at them. That said, they also possess great intelligence and can be very charming. 
The Bouvier Des Flandres can grow to be 24 Inches (60cm) tall and can weigh up to 110 lbs  (49kg.) It's coat comes in fawn, brindle, black, grey or blonde. Whilst the Bouvier doesn't shed much, he does require a fair bit of grooming to keep his coat looking neat and tidy.
Originating from Flanders, a principality which used to include parts of modern day France, Belgium and the Netherlands, Bouviers would work as herders, watch dogs and cart pullers proving themselves very effective farm dogs. During World Wars 1 and 2 the breed very nearly went extinct due to the devastation of Europe, however the breed was kept alive by European expats who had relocated to the USA. In modern times Bouvier's can now be seen working as police K-9 units and guide dogs for the blind.
[11] Briard
An old French breed which was first bred in the 14th century, before becoming hugely popular in the mid nineteenth century only to be driven to the point of extinction after being used extensively by the French army during the First World War. 
It is thought they were bred (unusually) to guard flocks and herd them. 
In the day, they would herd sheep in the pastures and at night they would protect them from wolves. 
Apart from tawny, Briards come in shades of black, grey or blue. 
I think tawny Briards are also called "Haystacks". 
This breed can be as tall as a Central Asian Shepherd dog, standing at 69 cm or 27 " high but it weighs slightly more than half at 41 kg or 90 lbs.
[12] Chow Chow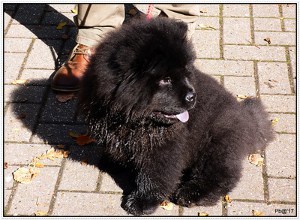 Well if you thought that a dog's tail could not get more bushy or curly, let me introduce you to the Chow Chow. 
Chow Chows are an ancient breed of dog, thought to originate in Northern China a few thousand years ago.
A direct translation of Chow Chow means "puffy lion dog", which describes the whole dog really!
But as a massive fur ball, it is the very distinctive thick fur around its neck which draws a comparison to a lion. 
And it is most often seen in a shade of red, not black.
But it does come in a wonderful solid black colour as well as a cream and a blue. 
For a dog with such a unique look, you would be wrong to think that it ends there. 
Just exercise one enough to get them panting and you will see that this breed has a distinctive blue black or purple tongue. 
[13] Portugese Water Dogs
Known locally in Portugal as Cao de Agua (dog of the water), these dogs at one point in time served on Portuguese fishing boats in the Atlantic, helping to retrieve lost gear along with herding fish into nets.
Their webbed feet make them great swimmers, hence the name waterdog.
These days the Portuguese Water dog is perhaps best represented by Bo Obama, the former first dog of the USA!  
Portuguese Water dogs can grow to be about 19 inches tall (50cm) and weigh around 60lbs (27kg). Porties can come in two different coat types, curly and wavy. The Portie's coat comes in black, white, brown, or black or brown with white. As the dog is considered a hypoallergenic dog by many, he doesn't shed very much at all.
With their calm temperament and incredible intelligence, the Portuguese Water dog is a brilliant companion. Porties are ideal for active families who live nearby bodies of water as they do love a good swim. Although porties are very active dogs, they tend to be very well behaved at home and obedient. 
[14] Flat Coated Retrievers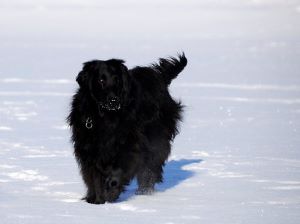 Hang on?
How can a flat coated breed be long haired and fluffy?
Well, just take a look at the photo and see.
These good natured and cheerful dogs can grow to be around 24.5 inches (62cm) tall and can weigh up to 70lbs (32kg).
Although typically known as a gun dog, the Flat Coated Retriever loves nothing more than to please his owners. 
Slightly more elegant than a Labrador retriever, his lovely silky coat comes in black and liver colors with feathering at his tail and legs. 
Known affectionately as the 'Peter Pan' of retrievers, the Flat Coat Retriever never seems to grow up, maintaining their puppyish taste for mischief well into old age.
[15] Bergamasco Sheepdog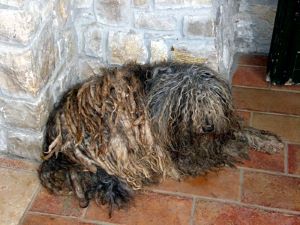 And let me finish with a bang!
These sheepdogs have an incredible coat.
Can you call a coat of dreadlocks, fluffy?
I think that you can.
And if you don't believe me, just go up to the next one that you see and give them a cuddle!
These dogs originate from Bergamo in Italy where they were bred to herd and to guard livestock in the mountains.
Which is why their coat is so outlandish.
Although the photo shows a Bergamasco which has a multi coloured coat, they do come with coats which are a solid black, I promise.
An adult male can stand up to about 62 cm (25 inches) tall and so whilst these dogs aren't the biggest breed out there, with an average weight of around 35 kgs, these dogs are "solid units".
But despite their robust appearance and working backgrounds these dogs are suprisingly good family pets.
Photo Credits
¹
³ Photo by Gerry Wood on Flickr
⁵ Photo by Andy Blackledge on Flickr
⁷ Photo by Airwolfhound on Flickr
⁹ Photo by Barbara Dieu on Flickr
¹⁰ Photo by Svenska Massan on Flickr
¹¹ Photo by Centrilobular on Flickr
¹² Photo by Pete Beard on Flickr
¹⁴ Photo by smerikal on Flickr